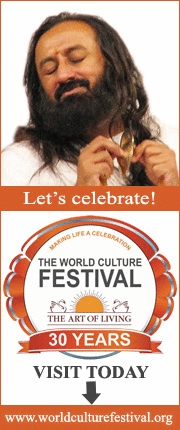 THE WORLD CULTURE FESTIVAL
An Unforgettable Peace Festival with Dance, Music, Yoga and Food
Celebrating Diversity for a peaceful tomorrow
The World Culture Festival in celebration of the 30th Anniversary of The International Art of Living Foundation.
In a unique celebration of harmony in diversity the World Culture Festival will bring together 70,000 participants from 151 countries who will take home unique sights, sounds, tastes and the mesmerising variety of all the world continents in one place!
The Grand Celebration in the Olympiastadion Berlin as well as the World Pavilions will be showcasing through dance, music, food, literature and conferences  the beauty of all World Cultures: The Festival will honour the norms and values of various cultures while celebrating harmony in diversity!
The Yoga Park will allow participants to experience the powerful impact of Yoga as a way to improve physical and mental health as well as to create inner peace.  Welcome to Berlin!
Click on the above flyer to know more!